Looking to purchase Gift Cards?
Sardinian Wine Tasting Dinner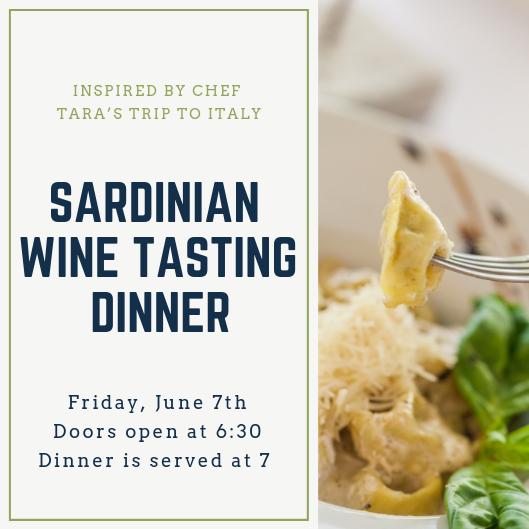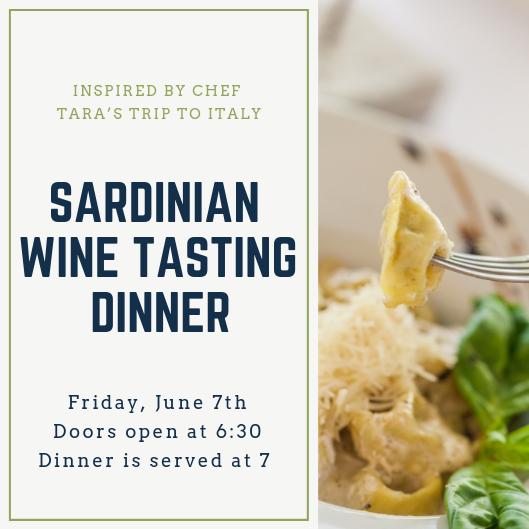 sold out
Sardinian Wine Tasting Dinner
Want to taste the food that Chef Tara experienced in Italy? Here is your chance! She has been working with winemakers and chefs from Sardinia to bring you an unforgettable nine course wine pairing dinner.
Chef Tara will guide you through dinner as if you are dining in Sardinia. You will be experiencing and tasting traditional Sardinian foods like Pane Carasau, Sardinian Gnocchi, Fregola, Lorighittas, and Sebadas. Aside from the main dishes, you will also be tasting Sardinian olive oils, balsamics, meats, and cheeses.
Pairing alongside the dishes will be wines from around Sardinia, two of which are from the oldest winery in Sardinia, Contini, which was started in 1898.
Dinner will begin at 7:00 pm. Tickets are $110 per person, all inclusive. Unfortunately, like a sporting event, tickets are non-refundable. If you can not attend you may send someone in your place.